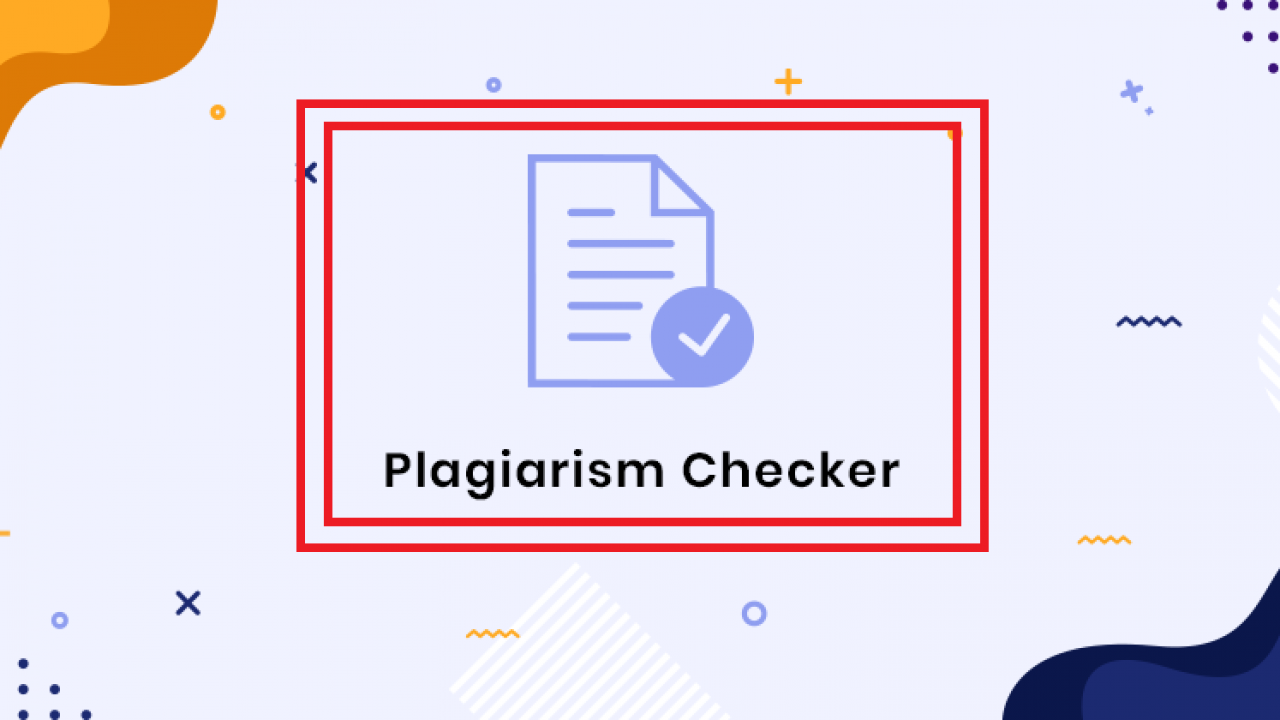 Powered by its own proprietary technology, this tech blog is the go-to source for tech, digital culture, and entertainment content for its influential and dedicated global audience!
It is one of the most influential blogs on technology on the internet today!
Mashable provides information to those who wish to catch up on all most everything happening around the tech world including movies, travel, finance, and, of course, gadgets.
Uniqueness is the most important trait of quality content and for sure, without quality, you can never rank on search engine result pages. The content you publish on your website should be free from duplicity. So, how to make sure that your content doesn't contain plagiarism? It's simple: you can leverage a plagiarism checker tool.
No matter whether you are a professional writer or a student, you must need a plagiarism checker to ensure the originality and quality of your content.
If you do not know about the best tools to check plagiarized content, then read this article thoroughly. We are going to tell you about the best plagiarism checkers which you can use to make sure that your content is 100% unique. Sounds Interesting? So let's start!
First of all, let us highlight the features and functionalities of plagiarism checkers. Afterward, we will provide you with a detailed account of the tools which work effectively to detect duplicate content.
Also Read: The Top 20 Digital Marketing Terms You Should Know
How to Find the Best Plagiarism Checker?
In the digital market, you will find a lot of plagiarism checker tools, but if you want to find the best plagiarism checker, you should keep the following features in mind:
Works with efficiency
Save your time
Uses AI technology
Performs a deep search
Detect plagiarism with accuracy
Highlight plagiarism percentage
Trace source links
Generate citations
Analyze up to 1000 words at a time
Provides free access
Ensures content quality
Thanks to these must-have features, a plagiarism checker can work effectively to ensure the content quality – by all means.
Now, let us help you find the best tool to check plagiarized content without any hassle. Keep reading to know about our top picks for plagiarism checker tools.
Grammarly
Millions of people use Grammarly as a plagiarism checker tool to detect duplicate content with absolute accuracy and efficiency. It is used mostly by students, teachers, and of course, writers to ensure the content quality by all means: fix grammar errors and check plagiarism at a time.
Grammarly Plagiarism Checker takes only a few seconds to analyze the given content and:
give pertinent writing suggestions
correct grammar issues
detect copied sentences
trace source links.
Ultimately, if you switch to Grammarly premium, it will help the best to make your content unique, clear, and readable. Thanks to its multi-functional capabilities, you can improve your writing style, correct your syntactic mistakes, and detect duplicity altogether. What else do you need to perfect your writing?
Rephrase.info
https://www.rephrase.info/plagiarism-checker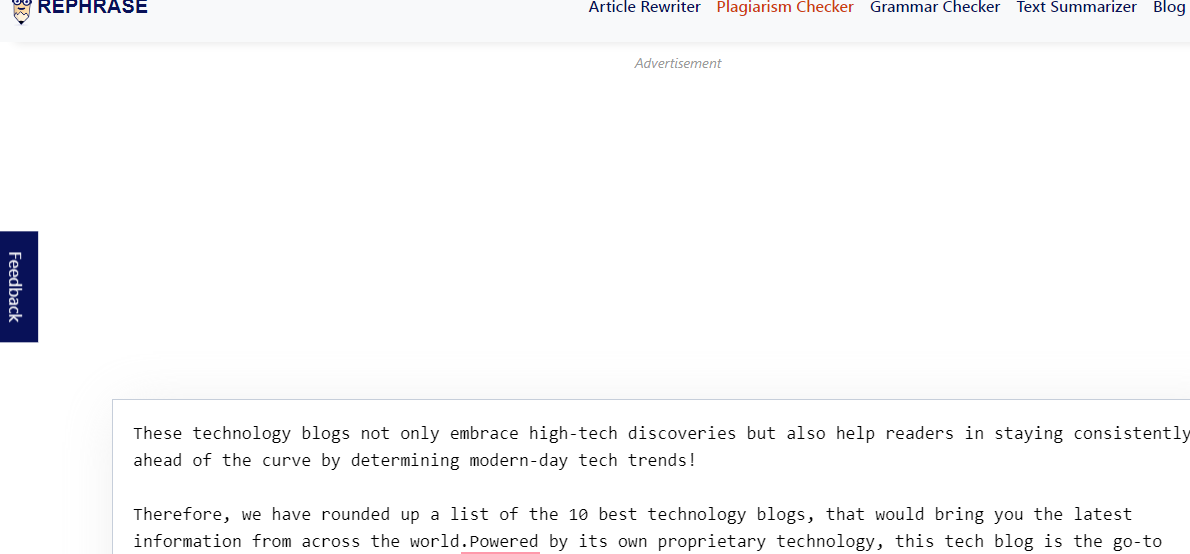 Rephrase.info offers an effective plagiarism checker tool to find out if a piece of content is copied or unique. Its plagiarism checker performs an in-depth search to compare the given content with millions of web pages and detect plagiarism.
It takes less than 20 seconds to analyze your content from top to bottom and highlight copied sentences in a row. Moreover, just as it detects plagiarized content, it tracks the sources with which it matches as well.
If you are looking for a trustworthy alternative to premium plagiarism checkers, then this can be an ideal choice for you. Users from all around the world can use Rephrase.info's Plagiarism Checker for free of cost. Keep in mind that it enables the users to analyze only 1000 words in one attempt. So, in case you don't want any limitations then it will be best for you to buy a premium subscription.
Unicheck

Unicheck is another effective plagiarism checker tool and around 1,100 academic institutions are using it on a global scale. Unlike other plagiarism checker tools, it takes only a few seconds to identify plagiarized content. If Unicheck catches any plagiarized content then it quickly traces the source from where the content has been copied.
Undoubtedly, Unicheck is an efficient and easy-to-use tool to check plagiarized content with ease. You can get a premium subscription to this AI-powered plagiarism checker at an affordable price that suits your budget and requirements.
PrePostSEO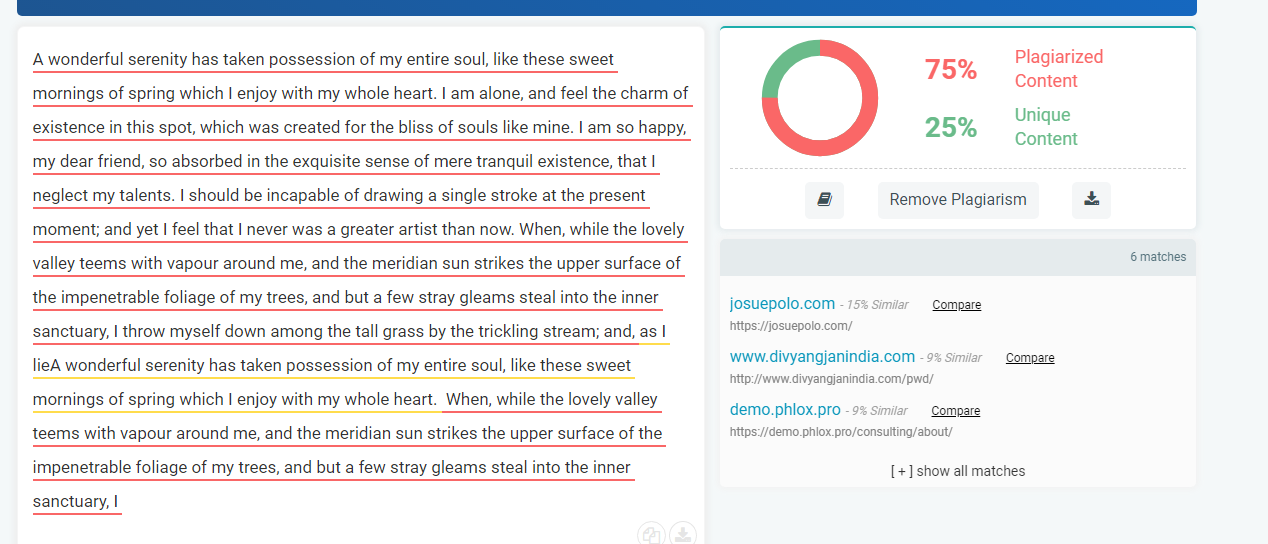 https://www.prepostseo.com/plagiarism-checker
PrePostSEO is a house of top-notch SEO tools. It is a digital platform from where you can find a variety of content tools including a highly-functional plagiarism checker.
This plagiarism checker has been specifically designed to assist writers, webmasters, and students. No matter what type of content you create (web content or academic assignment), you can easily process it through PrePostSeo's Plagiarism Detector to make sure that it is original and unique.
In case your content is found to be plagiarized then It will highlight how much of the content is not unique and inform you about the source where the writer has copied the content. You can this plagiarism checker for free of cost but keep in mind that its free version allows you to check only 1000 words a time.
iThenticate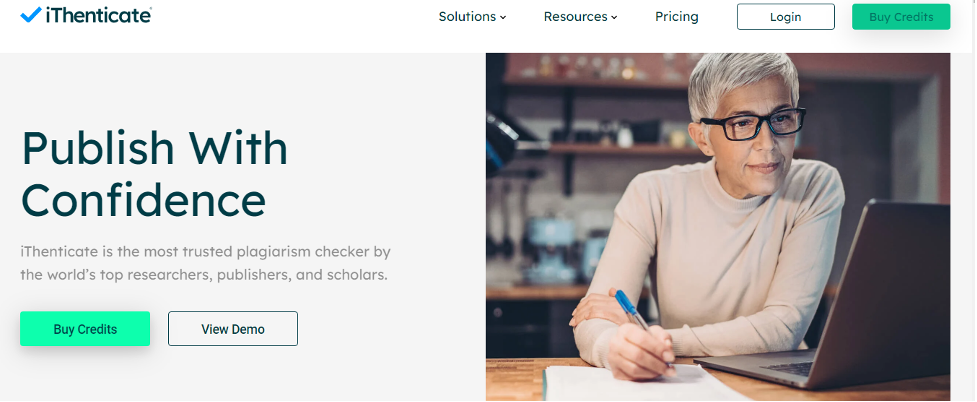 iThenticate is a well-known plagiarism checking tool used by graduate students, professors, and researchers – all around the globe.
Thanks to the advanced AI technology, it checks plagiarism very accurately and deeply. Moreover, when you analyze your content through it, you get a variety of pertinent writing suggestions to improve your content quality and make it more valuable.
All you are required to do is enter your content and run it. Following your command, this advanced plagiarism checker will run to detect plagiarism and trace source links right away.
Millions of users including professional writers, students, researchers, and marketers leverage iThenticate Plagiarism Checker to find duplicate content with ease.
Bottom Line
The best tool to check plagiarism checker must be AI-powered that carries out a quick deep search to find duplicate phrases and sentences within the given content. Moreover, it should trace the source links as well as generate citations to help you escape plagiarism.